It's easy to get caught up in the modern world.
Busy jobs lead to burnout.
Relationship issues lead to stress and anxiety.
Financial pressures can spiral into addiction.
Unfortunately, when life takes over, mental and physical health can decline. People become stuck in negative patterns of behavior and fail to thrive. Living life to its fullest potential can be the furthest thing from anyone's mind.
What is Live in Flow?
Since 2018, Live in Flow has offered a range of face-to-face and online resources all specifically designed to help people live the life they were destined to live.
Focussed on helping those who participate build valuable connections with like-minded peers and connect with mentors, Live in Flow addresses common issues such as burnout, lack of direction and the impact of grief and trauma.
On a broader scale, Live in Flow helps people stop and listen to what their body and heart are trying to say, heal from the past and create the path they were destined to follow.
Who are we?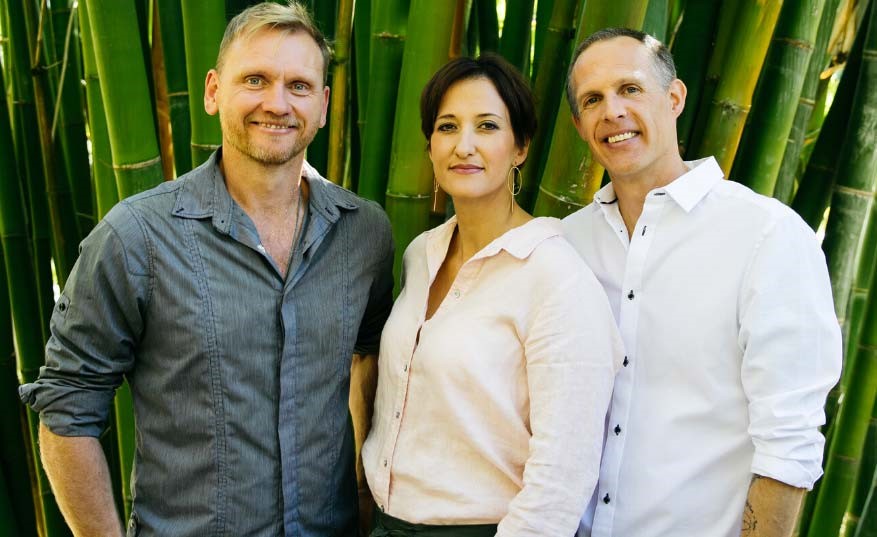 Live in Flow is co-founded by Matt Omo, Petra Brzovic and Guy Lawrence. With over 30 years of collective experience in facilitating and delivering transformational work, the powerhouse trio each brings a unique talent to the group to bring an offering unlike any other available.
In 2010 Guy co-founded the health and wellness company, 180 Nutrition. He has spent the last 15 years turning over every stone within the health industry to find out what actually truly makes us happy, healthy and strong. Through the Guy Lawrence Podcast, Guy connects with experts in the personal development and wellness space and passes his learnings onto his growing audience to assist in helping them live a healthy and fulfilled life.
Petra is a certified transpersonal and clinical hypnotherapist, regression and past life regression therapist, life between lives therapist, yoga teacher and aromatherapist.
Petra has been working on the latest body and mind medicine discoveries. With an international team of scientists, she is running research on brain, mind, body and soul connection, consciousness and healing.
As Master Trainer and Instructor, Petra is training and teaching therapists around the world and has devoted her career to giving people the tools and techniques to facilitate healing on a grand scale.
Matt is a leader of the sound healing movement in Australia with over 15 years of experience working with a variety of sound healing techniques bridging cultures and traditions from around the world.
The work and awareness around sound healing and its benefits are growing every day. Matt is developing new programs and products to meet this need and continues to support people in discovering the benefits of the healing power of sound.
Live in Flow resources
Whether you're facing a health battle, considering a career change, or navigating any of life's planned or unplanned circumstances, Live in Flow helps you release the unshakeable personal power you hold over every situation.
Focussing on connection with others and integrating the ancient arts of sound healing and meditation, Live in Flow provides a range of resources specifically designed to help you achieve physical, emotional and spiritual growth in any areas you choose.
Traveling across Australia, Guy and Matt lead small group, one-day workshops as an introduction or refresher to sound healing and engagement of meditation practices.
The formidable duo takes participants through two powerful processes and a transformative sound healing experience to help connect with self and peel back the layers that got you where you are today.
You can learn more about Australia-wide one-day mini retreats here.
We understand that not everyone has the capacity to travel and while face-to-face is our preferred method of connection, we utilise technology to reach people in their own homes and take them through our processes.
Monthly memberships are designed with genuine connection in mind. Included in a monthly subscription is:
1 Live meditation per month (also recorded and added to the meditation library)
Access to the entire Live In Flow Meditation Library via our app (approx 100 individual meditations!)
Exclusive access to a community forum to stay connected to and supported by us and other members
No lock-in contract, cancel at any time
You can find out more about online memberships and start a $1 trial here.
Three-night retreats are a chance to connect with like-minded individuals and transform your life from the inside out.
Facilitated by Guy, Matt and Petra, the retreat locations on the Northern Gold Coast and now Europe have been carefully chosen to give attendees a safe and supported environment conducive to creating real change.
It can be overwhelming to take steps towards long-term change, so we've carefully chosen locations that will put you at ease and make you as comfortable as possible.
Here's what you can expect from a Live in Flow retreat:
Day 1: Clearing
We come together as a group and identify what no longer serves us. Perhaps you know the career isn't right for you, or maybe you don't know what's next. We'll help you identify and leave behind the old before walking into the new.
Day 2: Empowerment
One of the things we all do is not realise our personal power. As a group, we'll help you move through blockages and learn how to identify and step into your true calling.
Day 3: Connection
On the third day, we help you connect to your deeper self through guided meditation processes and identify the infinite wisdom that we all hold.
Day 4: Heal and Surrender
On the final day, we'll start the healing and surrendering process helping you to step into your truth and live life fully in the future.
You can learn more about three and five-night retreats here.
Benefits of starting a Live in Flow program
Gain clarity over your short and long-term future 
Learn tools to help master your mind and align it with your heart to live with more fulfilment and guidance daily.
1. Identify and free yourself from unhealed trauma
Your body carries the memory of everything that you ever went through in your life. Learn how to free yourself from the past and live a happier life grounded in the present.
2. Improved physical and mental health
Science is now showing how effective meditation is on the body. Learn simple skills to help influence the body and mind and align your nervous system and energy centres.
3. Experience the power of sound
Practised for thousands of years, sound healing can connect people to the authentic truth of who they really are.
4. Turn theory into action
You might have read the books and listened to the podcasts but taking a step away from your normal environment will help you apply the teachings in real-time with no distractions.
5. Make lifelong connections
Who you choose to surround yourself with is one of the most important elements for long-term, positive change. Our programs help you meet people who will support, guide and mentor you for the rest of your life.
At Live in Flow, we know the only true change in our lives happens from the inside out.
Our solid practices help drive long-lasting change from within in a safe, supported, non-judgmental environment and help lead you to happiness without responding to the unpredictable nature of the environment around you.
Wherever you are in the world and whatever challenges you face, we understand it can often feel lonely, hopeless and like there is no way out. We want you to know that you are not alone!
Go deep with Live in Flow to discover your soul-aligned power and apply it to your short and long-term purpose. Even if you don't know what that is, Live in Flow will give you the tools and techniques to help you find it.
The life you're destined to live is waiting…
Visit our website today to find out more information about our programs and resources here.
We are not a weekend away escape. We are a life-changing retreat.