Join our newsletter to stay up to date & keep in touch.
EMPOWER YOURSELF
Are you ready to turn fear into power and create personal breakthrough?
Believe In Yourslef
Experience being unafraid, unstoppable and the freedom that comes with being truly liberated.
Trust Yourself
Find true fulfilment, achieve self confidence, self-love and the ability to look inward for ultimate freedom.
LOVE YOURSELF
Rediscover your secret weapon to living a fulfilling life.
Here's what Retreat Participants
have to say about the Live In Flow Retreats
"My body and soul felt so nourished"
"I think that this was the first time I truly experienced unconditional love as an adult. My body and soul felt so nourished from the support, connections, challenges, yoga, sound baths, meditations and of course the food."
Pauline
"Guy Lawrence, Petra Brzovic and Matt Omo you all gave me an experience that I could never have dreamt of. I could never have known was even possible! My gratitude towards you all knows no bounds…
So, I'm still not sure that what I experienced over the weekend was real. It honestly feels like an amazing dream. Since getting home a lot of our friends have been asking how it was but to try and explain it in words, which can't possibly describe the emotions you went through, is impossible. Everyone at the retreat was amazing. We were surrounded by so many beautiful people."
Andrew
"I absolutely loved the retreat and it was completely life changing. I discovered things about myself that I didn't know were still holding me back…
I am sooooo grateful to have met Matt Omo, Petra Brzovic and Guy Lawrence and all the beautiful souls at the retreat. I look forward to doing it all again! PS. The food is also next level amazing".
Peggy
" I found this peace inside that I don't think I've ever felt in my life, not even as a child. The retreat made me realise what is possible. And since returning home I'm realising it more and more, and it keeps getting better and better. I've just found this care and love for myself that wasn't there before."
Fleur
" Before the retreat, it was like I looked in my hand and I had all these pieces to a puzzle and I just had no idea how they went together because of the randomness. Flying home after the retreat, it was like someone handed to me the actual box that the puzzle came in. And then I just opened up the box and saw the picture and went, ha ha, I've got all those pieces…I know how to put them together, you know? It gave me clarity. It blasted all that other stuff out of me leaving me with just clarity. I thought: oh wow, this is incredible!"

Luke
"I had a car accident four years ago where I had crushed nerve between C3 and C4 and I suffer neck pain on and off regularly depending on what I do. Considering we drive up there and drive back, that would normally hurt me because just from sitting in the car. But since the retreat, I've had four weeks of no pain. I'm talking no pain, no headaches, no anything.
Chris
ABOUT GUY, PETRA & MATT
MEET THE TEAM
From left to right, meet Guy, Petra and Matt. Collectively they have over 30 years experience in facilitating and delivering this transformational work. Each of their unique talents are blended together to bring you a rare opportunity to experience the full force of this trio at these events.
Books and philosophy you may have read are turned into real life application for an environment of true change.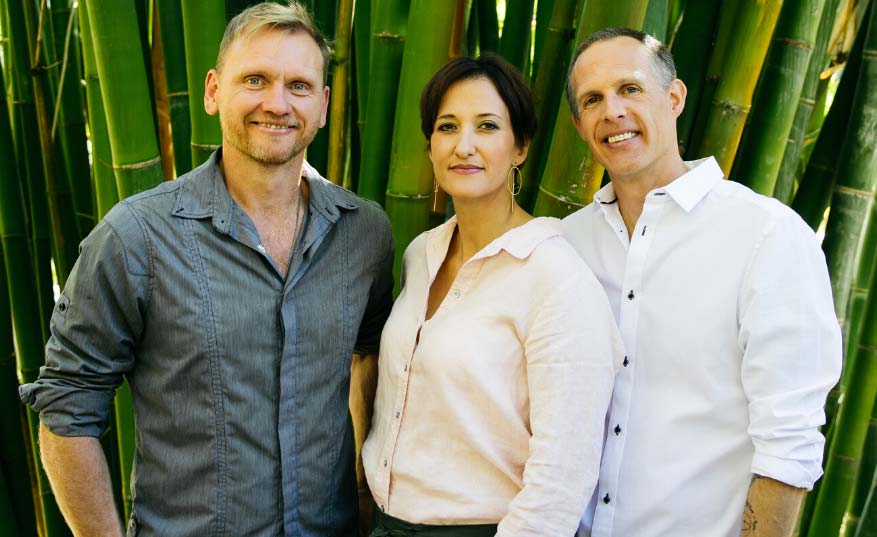 UPCOMING RETREATS
LET GO & LIVE IN FLOW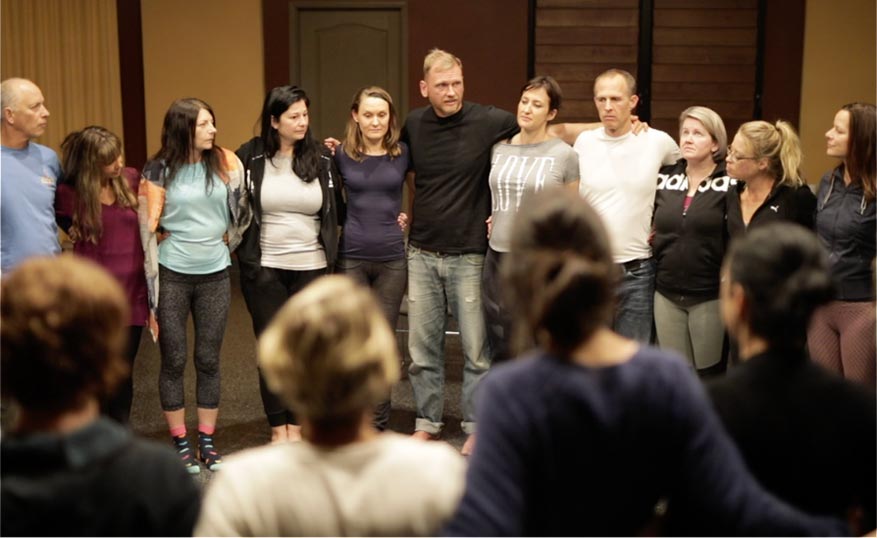 Have you been struggling to thrive in your life…tried everything you could and are still going in loops not knowing how to move forward? Only a few days with us and you will leave as a completely new person than the one that came 🙂 Just like all of the other like minded people that come to our retreats. There is no need to wait and struggle on your own any longer. Join us and we'll show you the way!
Latest Testimonials
In a world of constant change and evolution, one thing remains certain; the human potential for growth and [...]
Living from the heart is a concept that encourages us to tap into our deepest emotions, desires, and [...]
Group meditation is a practice where individuals come together to meditate in a shared space. It is a [...]